BoxTops for Education
Please collect and bring in as many as you can all year. Along with yourself, ask family and friends to save them as well. You may also put a container in your church or place of business. We will even provide the container. Noah's Ark receives ten cents (.10$) for each BoxTop. This money is used for school supplies or for things that the kids will enjoy at school. >> More Info Click Here >>
Giant A+ School Rewards with Martin's Bonus Card
If you have a Bonus Card for Martin's grocery store, please log onto the A+ School Rewards Site and designate Noah's Ark #06834 as the school you would like to support so we start receiving points and a support check. If you did this last year you must go on and re-register for the present school year. You may do this after September 1st.
If you would like us to register your card just bring it in and we will take care of it! We get points from October through March for groceries and gas.
Tyson A+ Project
We also collect Tyson chicken labels which we receive twenty four cents (.24$) per label.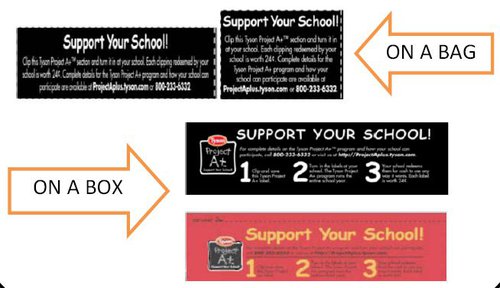 Annual "Spring Change" Drive
Each spring, we collect change for the needs of the school. This is a great way to raise money without people having to buy things they don't need or want and no orders to take or deliver. All funds collected go directly toward the needs of the school. You can save/collect change throughout the year and bring it in during the collection time or any time of the year. Some items we have collected for and purchased are: two walls, carpet, wood chips, copy machine, the play ground ark, building expansion, well, water system, new heating/cooling system, a new computer and most recently roofs over two building entrances. Our needs may be great but God always supplies.
The months for the change drive will be March - May.
Supply Donation List
If you are interested in donating class supplies that we need throughout the year I have included a list of a few things we use regularly. Thanks!!!
Hand Soap (individual bottles)
Paper towels
Toilet paper
Napkins
Tissues
Plastic spoons & forks
Disinfectant wipes or spray
Carpet cleaning spray
Toilet bowl cleaner
Dish soap
Large 33 gal. garbage bags
White paper plates (small)
Copy paper (white or colored) and/or cardstock (white or colored)
Glue sticks
White out correction tape
Dry erase markers
Red/Black sharpie markers
Post-it notes (all sizes)
Snacks
Monetary donations are ALWAYS appreciated